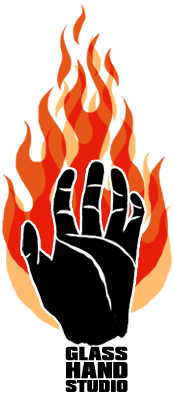 Glass Hand Studio is a public access glass blowing studio. Our goal is to provide a comfortable and well-equipped studio space where you can create glass art.
We provide:
Studio rental for glass blowing.
Private classes to small groups and individuals, regardless of skill level.
Hand made and custom glass sales.
Rental Rates
Studio rental: $35/hr | 3 hour minimum
Standard shop tools, equipment, and resources included.
Classes
Workshops: held throughout the year, these unique experiences are our easiest introduction to the world of glass and a great value.
Personalized Classes: $60 per person | 3 person maximum
Make a glass piece of your choosing. Your class is customized to fit your interests and schedule.
Private Instruction: $60/hr + $40/hr for each additional person | 3 person maximum
One-time and ongoing instruction in specific topics of your choosing.
Learn more about the classes we offer, what to expect, and how to prepare on the Classes Page.
Custom events can also be arranged. Party? Team-building event? Call (510) 681-2156 or email to reserve your time today!
We're happy to answer your questions or help with a project. Call us at (510) 681-2156, email us or drop by to learn more.